Inclusive initiatives are on the rise in the labor market. In 2017, the Other Circle's LGBT+ Charter of Commitment – created in 2013 – had 66 signatories. Five years later, it has 186 members, including companies, regional actors and communities. Quick deciphering.
State of the art
Companies are the most supportive of the Charter. In 2022, they will represent 2/3 of the 186 signatories. For the overwhelming majority, these are large companies or institutions (+500 employees).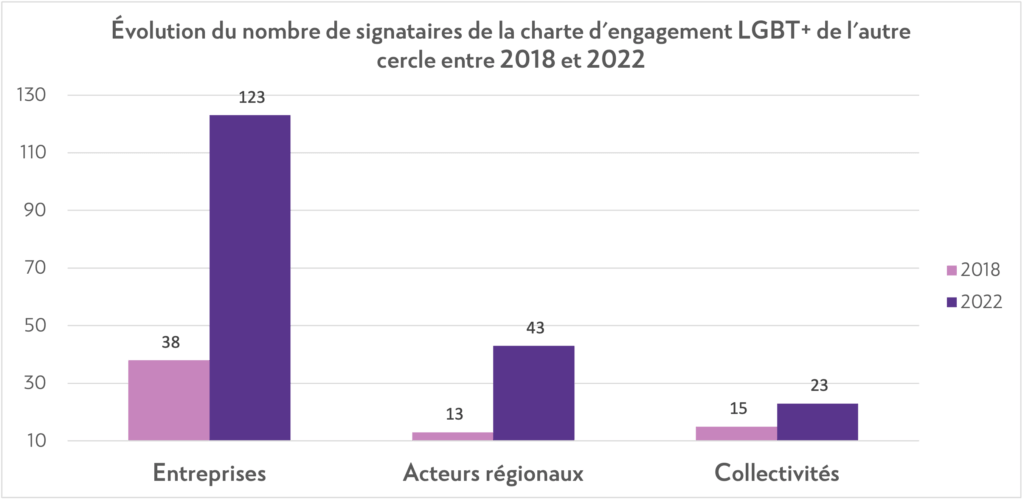 Industrialists and consulting and auditing firms are over-represented. The former include Airbus, Carrefour, Casino, Dell, Engie, GE France, Heineken, IKEA, La Poste, Mastercard, Microsoft, Monoprix, Orange, Pfizer and Manpower; the latter include Accenture, Capgemini, BCG, Deloitte, Roland Berger, Oliver Wyman and Wavestone. Four ministries are added to these actors: Culture, Solidarity and Health, Sports and Labor.
LGBT: where are companies in terms of inclusion? – Les Echos Start
The progression is clear since 2018: 2/3 of the signatory companies signed after this date. The proportion is similar for regional actors. Conversely, communities supporting the Charter appear to have done so in the early stages. Only one-third of them signed on after 2018.
Encouraging but mixed results
Of course, these results would require further calculations. But they are a first basis for reflection. The high proportion of corporate signatories since 2018 confirms the private sector's interest in LGBT+ inclusion. The growing influence of theOther Circle is also an encouraging factor. The sheer number of large companies raises questions about whether a critical size is necessary to promote LGBT+ inclusion. It is likely that a group-wide values dissemination strategy will result in greater commitment. Communication, recruitment needs and the group's media visibility also undoubtedly play a role.

Most surprising is the rate of community signatures. Why did the majority of them sign up before 2018? Let's first consider their small relative share: only 23, out of 186 signatories. Let us recall, on the other hand, the strong local presence of the Other Circle. A total of twelve associations and local delegations work with local organizations and authorities. These representative bodies bring together members from the South and East of France. The communities involved likely include some early supporters.
In the future…
This is encouraging, but more needs to be done. It is important to continue the dialogue with all types of companies and institutions. In particular, the generalization of the Charter to small and medium-sized structures represents a major stake, as well as its promotion in the territory. Finally, let us recall the complexity of LGBT issues in the world of work. The Charter approaches this private subject from a CSR (Corporate Social Responsibility) and HR (Human Resources) perspective. The commitment of the signatories to these plans, and the potential incentives, should also be taken into account.